Stripes ...and Java web development is fun again!
11/05/2008
Raleigh/Dallas.
Java web programming frameworks have a tendency to be complicated, large, and get in your way. But help is on the way: a Java web framework that makes web programming fun again.
Stripes is a lightweight, practical framework that lets you write lean and mean code—without a bunch of XML configuration files. Stripes is designed to do a lot of the common work for you, while being flexible enough to adapt to your requirements.
In Stripes …and Java web development is fun again! (Pragmatic Bookshelf, $36.95), author Frederic Daoud shows you how to use Stripes to its full potential, so that you can easily develop professional, full-featured web applications. As a bonus, you'll also get expert advice from the creator of Stripes, Tim Fennell.
As a Java developer, you want to leverage your knowledge and the wealth of Java libraries and tools. But when it comes to web development, many frameworks seem over-engineered and too complex. They have a steep learning curve, and it's just too difficult to get them to do exactly what you need because of their "closed-box" design.
Stripes brings simplicity back to Java web development. With this book, you'll be up and running in minutes, and can go a long way with just a few simple concepts. You'll spend your time developing your application, not maintaining gobs of configuration. Because Stripes is very transparent, you will understand exactly what is going on from request to response.
With this complete tutorial and reference, you can master Stripes and take advantage of its productivity in web application development. You'll tailor the framework to your requirements, not the other way around!
This book is packed with explanations and examples so that you learn practical problem-solving techniques. You'll be able to "wrap your head around the framework" and fully understand how Stripes works. Because of its open design, Stripes lets you easily integrate your favorite tools: tag libraries, AJAX frameworks, ORM solutions, dependency injectors, and more.
When your customer requests a feature, you'll answer "yes" with confidence because you're using a framework that lets you get the results that you need without getting in your way.
Book Information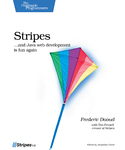 Stripes
...and Java Web Development Is Fun Again
ISBN: 9781934356210, 375 pages, $36.95US, $36.95CA, 7.5×9.
Pragmatic Bookshelf Titles are distributed to bookstores internationally by O'Reilly Media.
Additional Resources
Sample chapters, table of contents, and more information is available on the book's home page.
About Pragmatic Bookshelf
The Pragmatic Bookshelf features books written by developers for developers. The titles continue the well-known Pragmatic Programmer style, and continue to garner awards and rave reviews. As development gets more and more difficult, the Pragmatic Programmers will be there with more titles and products to help programmers stay on top of their game.
Contacts
Press and Editorial Queries Only:
Contact Andy Hunt or Dave Thomas
Pragmatic Bookshelf
800-699-7764 (+1 919-847-3884)
pragprog@praprog.com
<<
Enterprise Recipes with Ruby and Rails
|
Core Animation for Mac

OS X

and the iPhone
>>