Technical Blogging: Turn Your Expertise into a Remarkable Online Presence
For Immediate Release: March 6, 2012
Become more influential and earn extra money by blogging. Whether you want to create a popular technical blog from scratch or take your blog to the next level, we'll show you how.
Technical Blogging: Turn Your Expertise into a Remarkable Online Presence (Pragmatic Bookshelf, $33) is the first book to specifically teach programmers, technical people, and technically-oriented entrepreneurs how to become successful bloggers. There is no magic to successful blogging; with this book you'll learn the techniques to attract and keep a large audience of loyal, regular readers and leverage this popularity to achieve your goals.
Technical blogging expert Antonio Cangiano shares his extensive expertise with you, sparing no details and laying out a complete step by step road map to help you plan, create, market, monetize, and grow your own popular blog.
Antonio will guide you through all the choices you have to make in setting up a successful blog, teach you the key things you need to know to write blog posts that get read, and give you the tools to produce content regularly.
You'll learn how to promote your blog, understand traffic statistics, and build a community. And once you've built it, you'll learn how to benefit from it: advance your career, make money from your blog, use it to promote your products or company, and take advantage of your blog to the fullest. And when your blog takes off, Antonio will show you how to avoid the pitfalls of success.
Technical Blogging is the only guide you'll need to create and maintain a successful technical blog.
Available in epub, mobi, and PDF direct from the publisher and in paperback from fine bookstores worldwide.
What People are Saying
I'm in absolute awe at this amazing book, which goes above and beyond the best advice I've ever heard on the subject. I wish I had read this two years ago, as I had to learn this the hard way. This book has got me inspired to get back to writing more.
—Derek Sivers, Founder, CD Baby
Practical, to the point, and overflowing with handy advice and knowledge about blogging for technical folks—whether to make money, build a career, or just for fun.
—Peter Cooper, Editor-in-Chief, Ruby Inside
I've been blogging for about six years now… I really thought I knew just about everything I needed to know until I read Antonio's book!
—Susan Visser, Avid blogger and publishing program manager, IBM
Book Information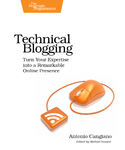 Technical Blogging
Turn Your Expertise into a Remarkable Online Presence
ISBN: 9781934356883, 288 pages, $33.00US, $35.00CA, 7.5×9.
Pragmatic Bookshelf Titles are distributed to bookstores internationally by O'Reilly Media.
Additional Resources
Sample chapters, table of contents, and more information is available on the book's home page.
About Pragmatic Bookshelf
The Pragmatic Bookshelf features books written by developers for developers. The titles continue the well-known Pragmatic Programmer style, and continue to garner awards and rave reviews. As development gets more and more difficult, the Pragmatic Programmers will be there with more titles and products to help programmers stay on top of their game.
Contacts
Press and Editorial Queries Only:
Contact Andy Hunt or Dave Thomas
Pragmatic Bookshelf
800-699-7764 (+1 919-847-3884)
pragprog@praprog.com
<<
Build Awesome Command-Line Applications in Ruby
|
Programming Your Home: Automate with Arduino, Android, and Your Computer
>>