TextMate: Power Editing for the Mac
2/27/2007
In case you hadn't heard the buzz, TextMate is a full-featured OS X editor that can make programmers incredibly productive.
The secret is that it's not really a text editor.
TextMate is actually a thin shell over a personalized team of robot ninjas ready to do your bidding. Let's face it, who doesn't want their very own team of robot ninjas?
In his latest book, TextMate Power Editing for the Mac (Pragmatic Bookshelf, US$29.95, 0-9787392-3-X), author James Edward Gray II shows you how to use TextMate to do your normal work, but signal the ever-watchful ninjas as you go. At your command, they will launch into action, slicing through text, inserting boilerplate, structuring source code, and much more. They will even post to your blog, handle your IRC conversations, and read your email.
These ninjas seem to be mind readers. They can transport you to exact line of the file you need to be on; they'll watch what you type and anticipate what you need next. And they'll help tuck your source code safely away at the end of the day.
Leave the days of dull work behind. Learn your spells, gain access to your team of robot ninjas, and you too will be able to edit text so effortlessly that everyone watching over your shoulder will be forced to ask, "Wait, how did you do that?"
Reviewer Praise
The amount of knowledge contained in the book is invaluable. It's not only what's written, but the 'what-if' attitude of the author. It encourages playing with TextMate. Effectively, the book took me from 'TextMate User' to 'Official TextMate Bundle Maintainer' in a few weeks. Such is the power of inspiration.
Ale Muno, TextMate Bundle Maintainer
Book Information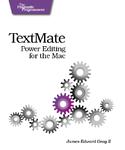 TextMate
Power Editing for the Mac
ISBN: 9780978739232, 208 pages, $29.95US, $41.95CA, 7.5×9.
Pragmatic Bookshelf Titles are distributed to bookstores internationally by O'Reilly Media.
Additional Resources
Sample chapters, table of contents, and more information is available on the book's home page.
About Pragmatic Bookshelf
The Pragmatic Bookshelf features books written by professional developers for professional developers. The titles continue the well-known Pragmatic Programmer style, and continue to garner awards and rave reviews. As development gets more and more difficult, the Pragmatic Programmers will be there with more titles and products to help programmers stay on top of their game.
Contacts
Press and Editorial Queries Only:
Contact Andy Hunt or Dave Thomas
Pragmatic Bookshelf
800-699-7764 (+1 919-847-3884)
pragprog@praprog.com
<<
Release It! Design and Deploy Production-Ready Software
|
Rails for Java Developers
>>