4/10/2008
Raleigh/Dallas.
How do the staff of a globally successful software development company maintain their edge? They do it by studying and applying their craft. And this book is proof.
The ThoughtWorks Anthology is a collection of essays covering a wide range of issues facing software developers today. In this book, you'll find a treasure trove of pragmatic advice to improve the effectiveness of your development efforts, written by experts in the field.
ThoughtWorks is a well-known global consulting firm; ThoughtWorkers are leaders in areas of design, architecture, SOA, testing, and agile methodologies. This collection of essays brings together contributions from well-known ThoughtWorkers such as Martin Fowler, along with other authors you may not know yet.
You'll find essays on testing, controlling a project, the creation of domain specific languages, issues of build and deploy, programming languages, techniques for software development, and more.
The thirteen essays include:
Solving the Business Software Last Mile
One Lair and Twenty Ruby DSLs
The Lush Landscape of Languages
What Is an Iteration Manager Anyway?
Project Vital Signs
Domain Annotations
Agile vs. Waterfall Testing for Enterprise Web Apps
Pragmatic Performance Testing
Book Information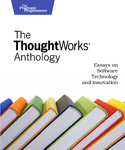 ThoughtWorks Anthology
ISBN: 9781934356142, 240 pages, $39.00US, $41.00CA, 7.5×9.
Pragmatic Bookshelf Titles are distributed to bookstores internationally by O'Reilly Media.
Additional Resources
Sample chapters, table of contents, and more information is available on the book's home page.
About Pragmatic Bookshelf
The Pragmatic Bookshelf features books written by developers for developers. The titles continue the well-known Pragmatic Programmer style, and continue to garner awards and rave reviews. As development gets more and more difficult, the Pragmatic Programmers will be there with more titles and products to help programmers stay on top of their game.
Contacts
Press and Editorial Queries Only:
Contact Andy Hunt or Dave Thomas
Pragmatic Bookshelf
800-699-7764 (+1 919-847-3884)
pragprog@praprog.com
<<
Advanced Rails Recipes
|
Programming Groovy: Productivity for the Java Developer
>>