Web Design for Developers
12/16/2009
Want to make your web applications look just a little bit better? Don't have a professional designer on staff? This book can help.
Web Design for Developers (Pragmatic Bookshelf, $42.95) will show you how to make your web-based application look professionally designed. You'll learn how to pick the right colors and fonts, avoid costly interface and accessibility mistakes, and make your application really come alive.
Author Brian Hogan says, "If you've ever written an application and wished it looked a little better, then this book is for you. If you've ever looked at your favorite website and tried to pull apart the CSS to figure out how it works, you're come to the right place."
Brian walks you through some common Photoshop and CSS techniques and works through a complete web site redesign, taking a new design from concept all the way to implementation.
You'll learn how to take a sketch and transform it into a digital mockup in Photoshop, and then finally into a working web page. You'll see how to develop logos, icons, and buttons using Illustrator and Photoshop, and then code a web page that will load fast, be easy to maintain, and most of all, be accessible to all audiences.
What People are Saying
"This is the book I wish I had had when I started to build my first website. It covers web development from A to Z and will answer many of your questions while improving the quality of the sites you produce."—Shae Murphy, CTO, Social Brokerage
About the Author
Brian Hogan has been developing web sites professionally since 1995 as a freelancer and consultant. He's also built small and large web sites and web applications using ASP, PHP, and Ruby on Rails.
Book Information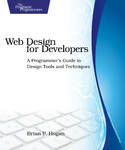 Web Design for Developers
A Programmer's Guide to Design Tools and Techniques
ISBN: 9781934356135, 300 pages, $42.95US, $53.95CA, 7.5×9.
Pragmatic Bookshelf Titles are distributed to bookstores internationally by O'Reilly Media.
Additional Resources
Sample chapters, table of contents, and more information is available on the book's home page.
About Pragmatic Bookshelf
The Pragmatic Bookshelf features books written by developers for developers. The titles continue the well-known Pragmatic Programmer style, and continue to garner awards and rave reviews. As development gets more and more difficult, the Pragmatic Programmers will be there with more titles and products to help programmers stay on top of their game.
Contacts
Press and Editorial Queries Only:
Contact Andy Hunt or Dave Thomas
Pragmatic Bookshelf
800-699-7764 (+1 919-847-3884)
pragprog@praprog.com
<<
Betas on Paper! Printed beta books from Pragmatic Bookshelf
|
Security on Rails
>>