For Immediate Release: January 4, 2012
Modern web development takes more than just HTML and CSS with a little JavaScript mixed in. Clients want more responsive sites with faster interfaces that work on multiple devices, and you need the latest tools and techniques to make that happen.
Web Development Recipes (Pragmatic Bookshelf, $35.00) gives you more than 40 concise, tried-and-true solutions to today's web development problems, and introduces new workflows that will expand your skillset.
You'll see a full spectrum of cutting-edge web development techniques, from UI and eye candy recipes to solutions for data analysis, testing, and web hosting.
Make buttons and content stand out with simple cross-browser styles; do animations that work on mobile devices without plugins; build and test HTML emails; and build a flexible layout that works on desktops and mobile devices. You'll use the Backbone and Knockout JavaScript frameworks to build responsive user interfaces, and you'll learn how tools like CoffeeScript and Sass offer better ways to develop and maintain your client-side code. You'll write tests for your code that run in multiple web browsers, use Git to keep track of your work, and even get a little one-on-one time with the Apache web server.
Whether you're new to front-end development, or you've got a few years of experience, you'll become a more versatile developer by finding out how–and why–to use these solutions in your next web development project.
Available in epub, mobi, and PDF direct from the publisher and in paperback from fine bookstores worldwide.
What People are Saying
"I know of no other resource that even comes close to exploring so many interesting techniques for modern web development."
—Matt Margolis, Manager, Getty Images
"No words are wasted on trivial details; this is a book for proactive web developers who want to pick up some new ideas fast."
—Peter Cooper, Editor, Ruby Inside, HTML5 Weekly, and JavaScript Weekly
"Web Development Recipes is one of those rare books that is not only extremely practical but also incredibly useful for a wide range of readers. Everyone in all aspects of web design and development will find numerous tips and tricks that will be immediately useful in their day-to-day work."
—Ray Camden, Developer evangelist, Adobe
Book Information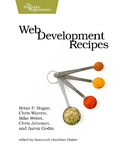 Web Development Recipes
ISBN: 9781934356838, 344 pages, $35.00US, $37.00CA, 7.5×9.
Pragmatic Bookshelf Titles are distributed to bookstores internationally by O'Reilly Media.
Additional Resources
Sample chapters, table of contents, and more information is available on the book's home page.
About Pragmatic Bookshelf
The Pragmatic Bookshelf features books written by developers for developers. The titles continue the well-known Pragmatic Programmer style, and continue to garner awards and rave reviews. As development gets more and more difficult, the Pragmatic Programmers will be there with more titles and products to help programmers stay on top of their game.
Contacts
Press and Editorial Queries Only:
Contact Andy Hunt or Dave Thomas
Pragmatic Bookshelf
800-699-7764 (+1 919-847-3884)
pragprog@praprog.com
<<
The Cucumber Book: Behaviour-Driven Development for Testers and Developers
|
Pragmatic Guide to Sass
>>