Extracts from The Pragmatic Programmer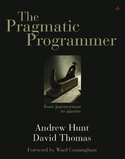 About the extracts
The Pragmatic Programmer is written as 46 small sections, each section ranging from two to ten pages long. Associated with most sections are a small set of exercises (with answers) and possibly one or two challenges—more general problems with no particular right or wrong answer. Sprinkled through these sections there are 70 tips: one-line statements of best practice that we try to live by daily.
Addison Wesley has kindly allowed us to reproduce here some sections from the book, along with the table of contents and a complete, annotated list of tips (this list is also available as a pull-out card in the back of the book).
The sections we've included here are:
For more interesting tidbits on software development, see all of our titles.