Here are three simple truths about software development:
1. You can't gather all the requirements up front.
2. The requirements you do gather will change.
3. There is always more to do than time and money will allow.

Those are the facts of life. But you can deal with those facts (and more) by becoming a fierce software-delivery professional, capable of dispatching the most dire of software projects and the toughest delivery schedules with ease and grace.
About this Book
264

pages
Published:
Release:

P5.0 (2014-08-07)

ISBN:

978-1-93435-658-6
Get ready to kick some software project butt. By learning the ways of the agile samurai you will discover:
how to create plans and schedules your customer and your team can believe in
what characteristics make a good agile team and how to form your own
how to gather requirements in a fraction of the time using agile user stories
what to do when you discover your schedule is wrong, and how to look like a pro correcting it
how to execute fiercely by leveraging the power of agile software engineering practices
By the end of this book you will know everything you need to set up, execute, and successfully deliver agile projects, and have fun along the way.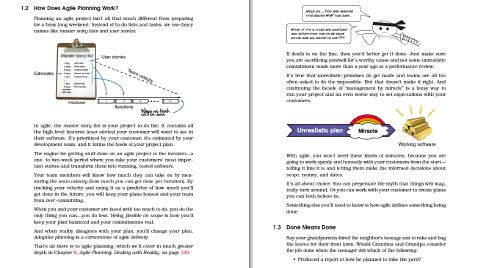 If you're a project lead, this book gives you the tools to set up and lead your agile project from start to finish. If you are an analyst, programmer, tester, usability designer, or project manager, this book gives you the insight and foundation necessary to become a valuable agile team member.
The Agile Samurai slices away the fluff and theory that make other books less-than-agile. It's packed with best practices, war stories, plenty of humor and hands-on tutorial exercises that will get you doing the right things, the right way.
This book will make a difference.
Contents and Extracts
Introducing Agile

Agile in a nutshell
Meet your agile team

Agile Project Inception

How to get everyone on the bus
Seeing the big picture
Making it real

Planning Agile Projects

Gathering user stories
Estimation – the fine art of guessing excerpt
Agile planning – dealing with reality

Executing Agile Projects

Iteration management – making it happen
Creating an agile communication plan
Creating a visible workspace excerpt

Creating Agile Software

Unit testing – knowing it works
Refactoring – paying down your technical debt
Test-Driven Development
Continuous integration – making it production ready

Appendixes

Agile Principles
Resources
Bibliography
Comments and Reviews
IPRUG said:

I would thoroughly recommend this book to project managers, team leaders, and developers.

This book is very well written. Rasmusson uses an entertaining writing style that makes it pleasant to read from beginning to end. What I like the most is the author experience. The way he presents the topics dealing with role assignation (chapter 2) and reality in agile planning (chapter 8) is simply remarkable.

—Computing Reviews

Ron Jeffries said:

Jonathan Rasmusson has written a book for today that captures the excitement and value of what agile software development meant to us at the time of the Agile Manifesto. Look to the master, follow the master, walk with the master, see through the master, become the master.

Coauthor, "The Agile Manifesto"

FrazzledDad said:

Clear, well-written, and extremely useful. This book stays very focused on what matters in building a successful agile practice without being preachy or vague…I've read plenty of books on Agile. This one's definitely in the top three.

designlab206 weblog said:

I highly recommend this book for anyone who wants to understand Agile development on a new level. Even if you already use agile development in your software design, this book will help you understand and use the tools available to you on a new level.

The Agile Samurai is the book I wish I'd read before I started my last agile project. The chapters on agile project inception alone are worth the price of admission.

—Joshua Kerievsky

Founder and CEO

Industrial Logic, Inc.

Maybe a few stodgy, grumpy types will turn their noses up at the fun tone. The truth is they don't deserve a book this good.

—Ian Dees

Software Engineer

The Agile Samurai is exactly the book you and your team need to understand and deliver using the agile method. It makes the concepts tactile for everyone from the highest level of leadership to the people pushing forward on the front lines.

—Jessica Watson

Business Analyst

Shaw Communications

The Agile Samurai helps you steer an agile project from start to finish. No agile toolkit would be complete without this book.

—Wendy Lindemann

Agile Program Manager

This book was written with the insight and clarity that can only come from a person who has proved these techniques in the trenches. I have read many books on agile software development; this is by far the most engaging, easy to read, and just plain fun of them all. Get ready to sharpen that sword!

—JP Boodhoo

Founder

Develop with Passion

If you want a guide to agile projects backed by real-world success stories and battle scars, read this book. JR brings us an easy and humorous read that covers almost any question you may have on agile and how to make it work. His content is sincere, simple yet comprehensive, realistic, and honest about common pitfalls teams will likely encounter. A great read!

—Eric Liu

Lead Consultant

ThoughtWorks